Rosacea is a common long-term skin condition that causes blushing or flushing and visible blood vessels.  It mainly affects the face. It may also produce small pus-filled bumps. These signs and symptoms may flare up for weeks or months and then go away again for a while. Rosacea can be mistaken for acne, other skin problems or natural ruddiness. Rosacea can affect anyone but it's most common in middle-aged women and men. There's no cure for rosacea but treatment can control and reduce the signs and symptoms.
Signs and symptoms of rosacea include:
Facial flushing or blushing.  Rosacea can cause a persistent blushing or flushing in the central part of your face. 
Visible veins:  Small veins on your nose and cheeks break and become visible (spider veins) 
Swollen bumps: Many patients develop pus-containing pimples that are often mistaken for acne vulgaris 
Burning sensation: The skin of the affected area may feel hot and tender
Eye problems: Many patients with rosacea experience dry, irritated, swollen eyes and eyelids. This is known as ocular rosacea and affects up to 50% of patients with rosacea. In some patients the eye symptoms precede the skin symptoms
Enlarged nose. Over time rosacea can thicken the skin on the nose, causing the nose to look Bulbous(rhinophyma). This occurs more often in men than women.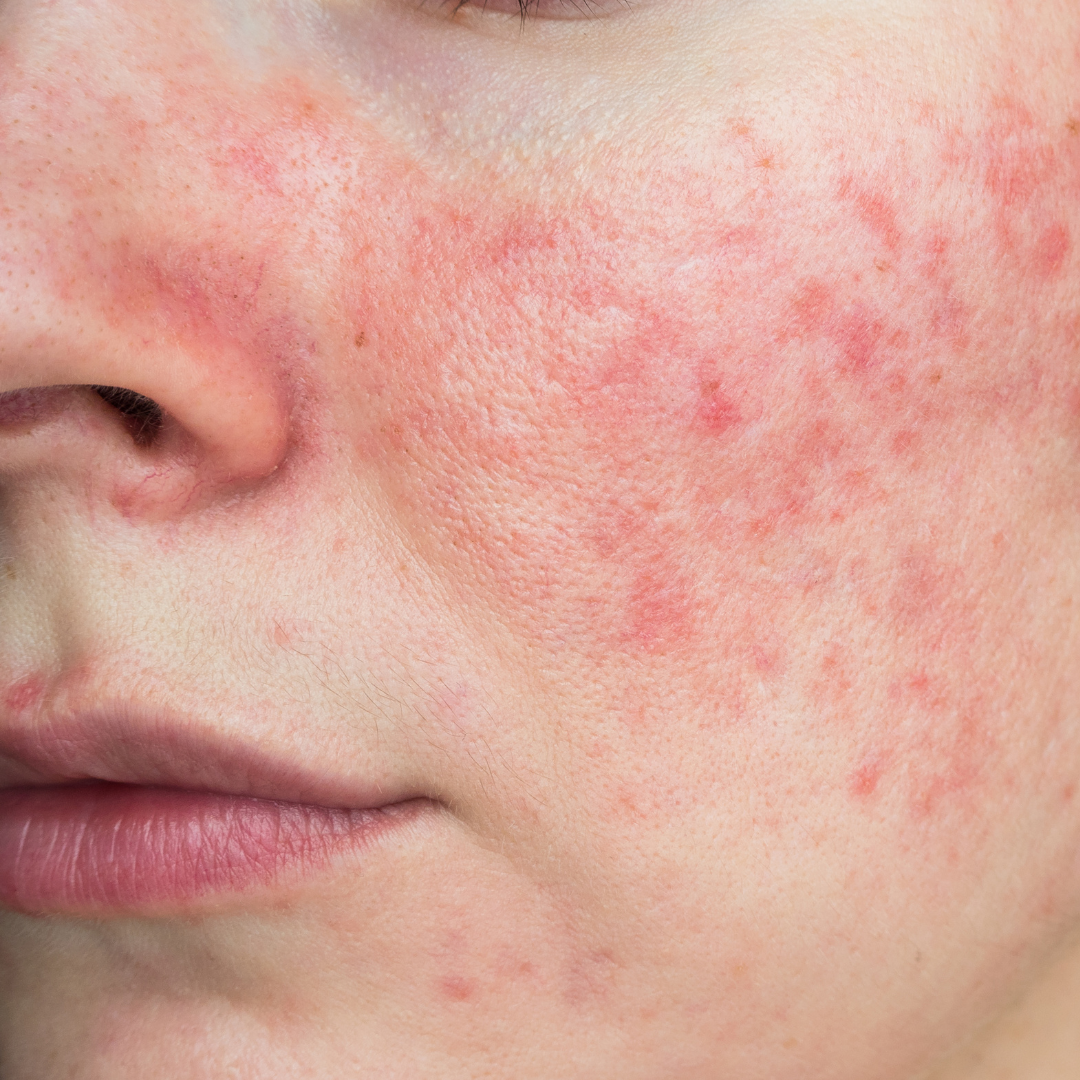 When to see a Doctor: If you experience persistent symptoms of your face or eyes; it is time to see a Doctor/Dermatologist for a proper diagnosis and treatment.
Diagnosis: Rosacea is usually a clinical diagnosis. The Doctor will use the history of your symptoms and the examination of your skin to diagnose you properly. Occasionally the Doctor may suggest a skin biopsy to rule out other skin conditions such as psoriasis or lupus. Rosacea can also be misdiagnosed as seborrheic dermatitis or an allergic contact dermatitis.
Over the counter Products: A proper skin care regime is important both to treat both the symptoms of rosacea and to prevent it from getting worse. Rosacea is an inflammatory disorder where the skin barrier function is impaired and the blood vessels are unstable.  Skin products like vitamin C serum, daily sunscreen ,vitamin B5  gel, moisturiser and niacinamide may be recommended as part of the daily skin care regime for the patient with rosacea. Alpha-hydroxy acid products may also be recommended but need to be introduced slowly in patients with rosacea as their skin can initially be very reactive to certain skin care products.
Prescription Drugs: Your Doctor may recommend topical creams or an oral antibiotic for a period of time to get the rosacea under control.  This will be discussed during the Dermatology consultation. Roaccutane is also sometimes recommended in very difficult to manage cases.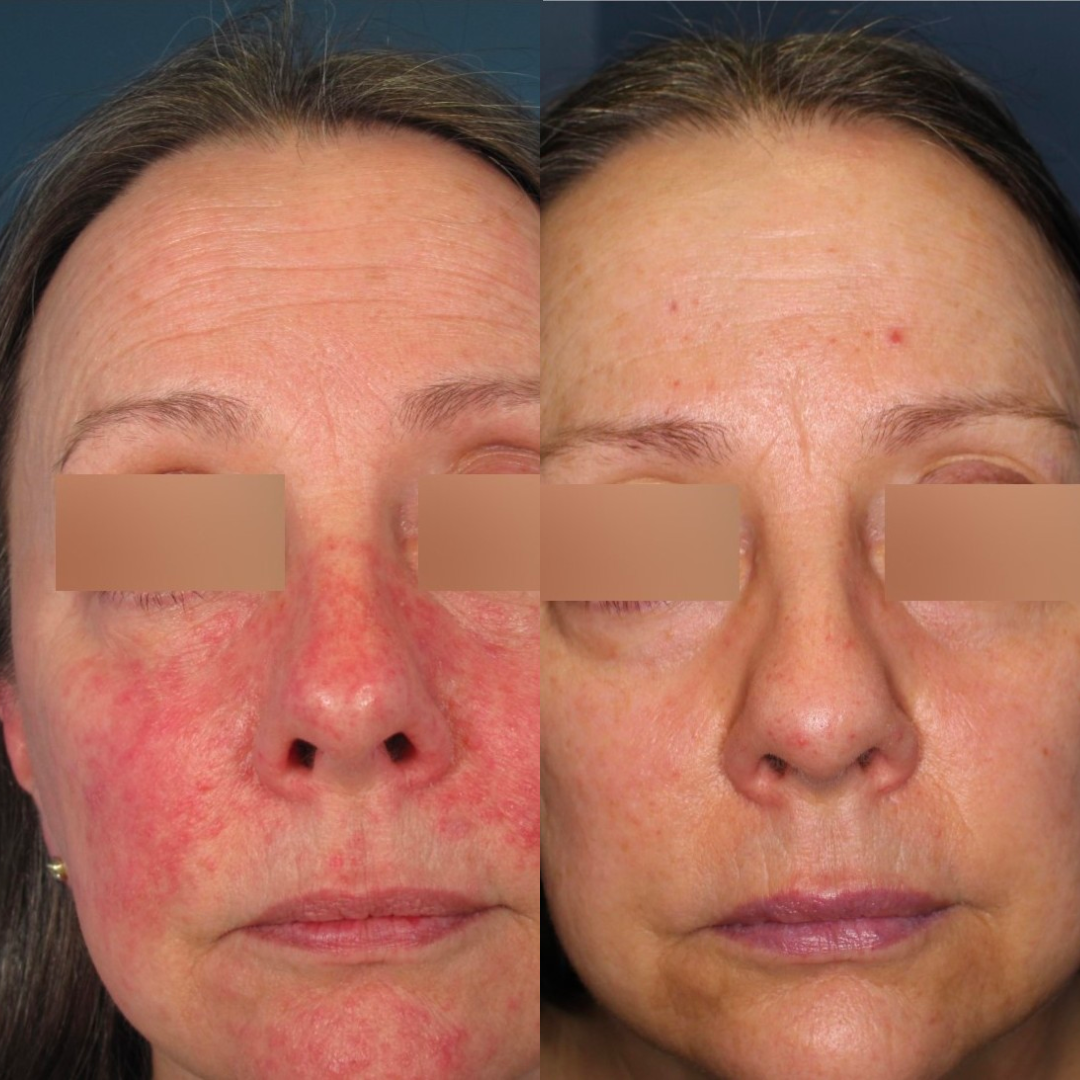 Laser therapy: At The Adare Clinic we offer light therapy, laser treatments and thermavein for patients with rosacea.
Cutera Laser limelight: This is an IPL or intense pulsed light treatment. Light therapy involves repeat treatments to maintain improved skin appearance. It is well tolerated but patients with a low pain threshold should take some simple painkillers before the treatment. Side effects are usually minimal and include temporary redness, bruising and darkening of the skin.  It is suitable for overall redness or tiny blood vessels and improves the overall appearance of the skin. It also can improve pigmentation on the face. It is usually done in course of 6 and treatments are 1-2 weeks apart. Patients will need to book a patch test before any treatment course.
Pulsed Dye Laser: Pulsed dye laser is a vascular laser used for the more advanced rosacea and larger more visible veins especially around the nose and cheeks.  It is very well tolerated but may leave some bruising after treatment.  Usually there are 6 treatments done 2 weeks apart. Patients with more severe rosacea or those who are unable to tolerate bruising may need repeat courses for optimal results.  This treatment needs to be repeated every few years.
Laser genesis. This is a vascular (ND-Yag) laser.  It treats diffuse redness and stimulates collagen which will stabilise the blood vessels. It is relatively painless ( there is a heating sensation) and there is no downtime afterwards. This treatment is suitable for patients who cannot accept any downtime or bruising  associated with other treatments and have mild to moderate rosacea. Laser genesis is done as a course of 6 treatments, 2 weeks apart and will require ongoing maintenance sessions to keep healthy and improved skin appearance.
Cutera ND-Yag laser:  This is a vascular laser used to treat deeper more stubborn veins on the cheeks and chin that won't respond to other treatments. It is very well tolerated.  There can be some bruising and redness post-treatment. It can be done as individual sessions or as a course of 6 treatments 2 weeks apart. This laser is suitable for patients with more advanced rosacea or larger spider veins.
Thermavein: Thermavein uses a process known as thermocoagulation which seals the thread veins walls causing them to disappear instantly. Thermavein is suitable for patients with very small superficial veins around the nose. It is well tolerated, not painful but more irritating.
Chemical peels: A chemical peel is a skin resurfacing procedure in which a solution is applied to the skin to remove the uppermost layers.
Lactic acid and Mandelic acid peels are frequently recommended for patients with very sensitive rosacea-type skin either singly or in combination.  They gently peel away dead skin cells on the surface making way for new undamaged skin cells to take their place. Lactic acid will also activate the skin's natural moisture factor. TCA( trichloroacetic acid)  and Modified Jessner's peels are sometimes recommended for patients with severe papulopustular rosacea. It will clear up the pustules and improve the skin's quality and texture. It also will stimulate the production of collagen which provides long-term stability to the blood vessels.
Secret RF: This a combination radiofrequency with micro-needling treatment. There are 3 treatment sessions done 2 weeks apart under topical anesthetic.  The aim is to stimulate the production of new collagen which will thicken the underlying Dermis. The Dermis supports the bloods vessels so aggressive stimulation of new collagen will make the blood vessels more stable and prevent them from breaking away and becoming visible spider veins on the face.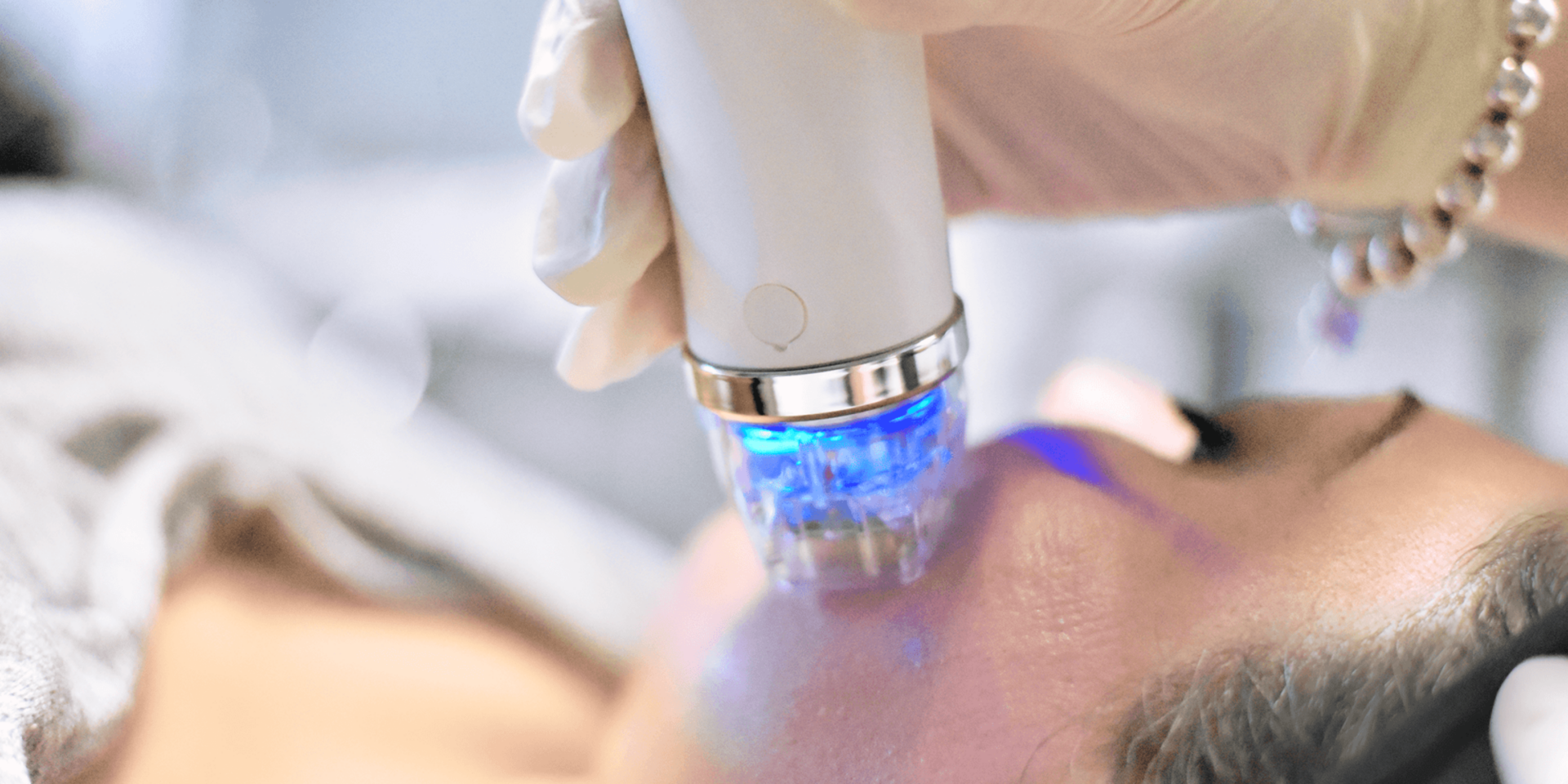 Consultation
An initial dermatology consultation is required to properly diagnose and recommend a treatment plan.
Our doctors are experts in the management of Skin Cancer, Melanoma, Acne, Psoriasis, Atopic Dermatitis (Eczema), Hidradenitis Suppurativa, Lupus, Contact Dermatitis and Hair Loss. They have access to and experience with advanced treatments and technologies that offer the most up to date and best possible care.
Contact Us
THE ADARE CLINIC
Dublin
4 Clare Street, Dublin 2.
Tel: +353 (0)1 676 9810 Dublin
Email: ivan@theadareclinic.ie
_
Adare, Co. Limerick, Ireland
Unit 2, Harvey's Quay, Limerick
Tel: +353 (0)61 395410 Adare
Email: info@theadareclinic.ie