REFORM TC Peels
REFORM SKINCARE PROFESSIONAL
TCA Peels (Trichloracetic Acid)
What are REFORM SKINCARE TCA Peels?
These are TCA crystals dissolved in water. There are variable percentages depending on what depth you and your doctor decide is necessary. REFORM Skincare Professional Peels are 12 to 15% in strength.
TCA peels are more medium to deep depth peels.
Advantages:
Courses of 3 to 6 peels ensures limited downtime with maximum results.
Non-toxic, so large areas can be treated in one session.
Excellent improvement to pigmentation and skin texture
Effectively treats actinic keratosis
Not painful, the patient feels a prickly heat sensation.
No down-time.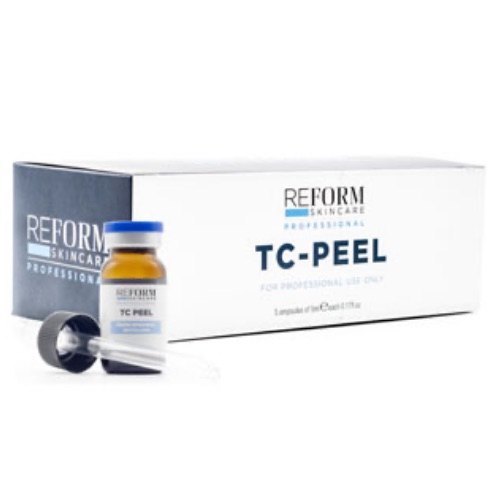 Patient Expectations:
An intermediate TCA peel should give a fantastic improvement in skin texture, pigmentation, fines lines and wrinkles. An intermediate depth peel should be expected to last about 2 years and a deep TCA chemical peel should last 5 years. However this can't be guaranteed. A specific skin care regime is available post peel and if complied with will give long lasting results. TCA peels are not for treatment of deep wrinkles or acne scarring. These should be treated with surgery, laser resurfacing or phenol peels.
Indications for TCA Peels:
Skin Types 1- 4 only.
Freckles.
Solar lentigines.
Fine to medium wrinkles.
Solar keratoses.
Great for a mature sun damaged skin.
Contraindication to TCA peel:
Pregnancy/lactation.
Roaccutane treatment within 6 months.
Broken skin
Active skin infection.
Aftercare for TCA Peels with a greater strength that 15%.
Patients will need both emulsifying ointment and aqueous cream post peel. The aqueous cream needs to be applied hourly and emulsifying ointment every 4-6 hours. Peeling will start about 48 hours after the peel and w ill be quite aggressive for about 5 days. If the neck and décolletage are treated at the same time the application of the creams is the same but it may take up to three weeks for the healing process to complete in these areas. A daily factor 50 sunscreen is recommended post peel. It is very important never to pick peeling lesions post-peel as this can result in scarring. Instead keep rubbing in the creams as instructed.
If you decide to opt for the deeper TCA peel antibiotics may be recommended for a few days as there is a higher risk of infection.
15% TC Peel Cost is €200 – Book Now >
Our doctors are experts in the management of Skin Cancer, Melanoma, Acne, Psoriasis, Atopic Dermatitis (Eczema), Hidradenitis Suppurativa, Lupus, Contact Dermatitis and Hair Loss. They have access to and experience with advanced treatments and technologies that offer the most up to date and best possible care.
Contact Us
THE ADARE CLINIC
Dublin
4 Clare Street, Dublin 2.
Tel: +353 (0)1 676 9810 Dublin
Email: ivan@theadareclinic.ie
_
Adare, Co. Limerick, Ireland
Unit 2, Harvey's Quay, Limerick
Tel: +353 (0)61 395410 Adare
Email: info@theadareclinic.ie