What is IPL Photorejevunation?
Photorejuvenation involves the treatment of surface skin irregularities such as fine lines, enlarged pores and benign pigmented and vascular lesions by using a light based system.
Indications for IPL Photorejvenation:
Freckles. These are small brown, flat lesions. They are more common in youth lightening with age. They are more common in skin types 1, 2 and 3. Causative factors are genetics and sun exposure.
Solar Lentigines. These are 1-2 cm in diameter. They are brown flat lesions which are caused by chronic sun exposure.
Melasma (chloasma). This is a brown flat pigmentation occurring in a symmetrical fashion on the face. It is common in women in pregnancy and with use of the oral contraceptive pill. It is exacerbated by sun exposure.

It is the most difficult type of pigmentation to treat and sometimes a combination of creams, peels and laser may be required for optimal results.

Birthmarks. IPL is not suitable for all birthmarks, these would need to be assessed by the doctor prior to treatment and she will advise the patient/parents on the best treatment options.
Rosacea/Red Veins. IPL is the treatment of choice for rosacea. However sometimes rosacea will require other treatments like antibiotics oral and topical. A Dermatology consultation with the doctor would be required before laser treatment.
Red veins also respond very well to IPL treatment however some larger veins will respond better to a vascular laser or dermarolling. Again an assessment with the doctor is important before starting treatment.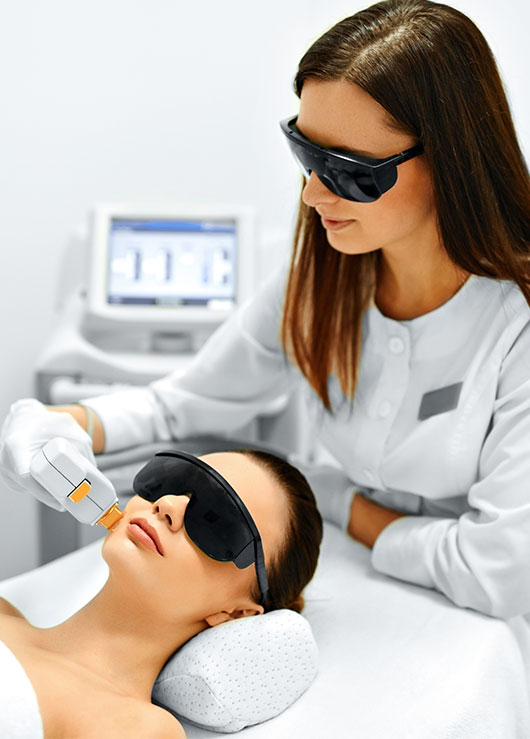 Contraindications
Any raised lesion. It is very important before starting any form of laser/IPL treatment that a medical doctor has a look at any suspicious lesions. If they are suspicious they will need to be biopsied where a small piece of tissue is sent to the histology department in the hospital for analysis. Any raised lesions should be covered with white sticky paper to avoid treating.
Moles, Basal Cell Carcinomas, Squamous Cell Carcinomas, melanomas, Seborrhaeic keratosis should absolutely never be treated with a laser/IPL machine. These are best removed surgically or treated appropriately. Your doctor will discuss best treatment with you.
Tattoo. An IPL laser is not suitable for tattoo treatment.
How does IPL treat pigmentation?
An IPL works by selective thermolysis of melanosomes. The melanin within the pigmented lesion absorbs the light energy.
Heat destroys the melanin containing keratinocytes and potentially the melanosomes within the mealnocytes. After IPL (1 minute to 48 hours later), the melanin undergoes a chemical change and turns darker.
The cell that contains this darker melanin travel towards the stratum corneum and then slough off. This takes about 5-7 days on the face and 14-21 days on other areas.
How many sessions?
The number of sessions a patient needs to obtain optimal results depends on
Skin Type
Depth of pigmentation
Fluence of the laser/IPL
On average most patients need between 3 and 6 sessions and results need to be maintained with sun protection and sunscreen, melanin inhibiting cosmeceuticals. And maintenance sessions. Skin may repigment anyway because of the genetic make up so sun avoidance as much as possible is recommended.
Treatment intervals: FACE= 2 to 4 weeks. BODY= 3 to 6 weeks.
Contact Us
THE ADARE CLINIC
Dublin
4 Clare Street, Dublin 2.
Tel: +353 (0)1 676 9810 Dublin
Email: ivan@theadareclinic.ie
_
Adare, Co. Limerick, Ireland
Unit 2, Harvey's Quay, Limerick
Tel: +353 (0)61 395410 Adare
Email: info@theadareclinic.ie