Pulsed Dye
THE ADARE CLINIC operate two Chromogenex Pulsed Dye Lasers at their clinics in Dublin and Adare.
Pulsed Dye Laser is used in the treatment of the following conditions:
Rosacea
Acne
Redness of face and neck area
Wrinkles
Age Spots
Sun Damage
Port Wine Stains
Warts
How it Works?
A concentrated beam of light is fired at the skin using the Pulsed Dye Laser. This light targets blood vessels in the skin converting the light into heat, destroying the blood vessel while leaving the surrounding skin undamaged.
Does it Hurt?
Pulsed Dye Laser treatments are not painful, more uncomfortable and are considered office procedures where downtime is at a minimum. Most people can return to work immediately following a treatment. Post treatment, your skin will show more redness than normal but this redness fades quickly. Treatments for Age / Sun spots, telangiectasia, spider naevi are normally carried out at a higher setting and this can result in localised bruising.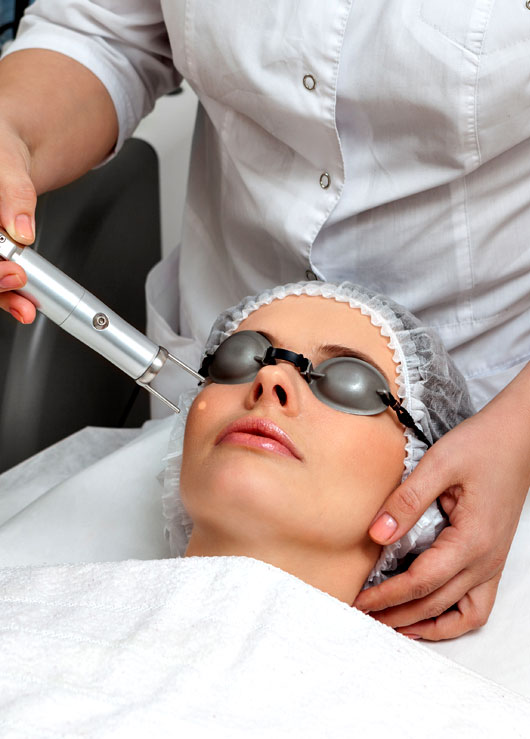 How many Sessions?
Results are best following a course of 6 sessions Pulsed Dye Laser. Most people notice improvements following the first treatment getting better as the sessions continue.
How much does Pulsed Dye Laser Cost?
Each session of Pulsed Dye laser costs €300 and a course of 6 costs €1000
Contact Us
THE ADARE CLINIC
Dublin
4 Clare Street, Dublin 2.
Tel: +353 (0)1 676 9810 Dublin
Email: ivan@theadareclinic.ie
_
Adare, Co. Limerick, Ireland
Unit 2, Harvey's Quay, Limerick
Tel: +353 (0)61 395410 Adare
Email: info@theadareclinic.ie