Phenol Pee
A Phenol Peel is the deepest type of peel, the one that gives the most dramatic results.
Its indications are precise and are limited to cases that cannot be treated with other peels.
If a Skin Booster Peel or trichloracetic acid (TCA) peel cannot solve your skin problem, a phenol peel may offer the solution. A phenol peel is mainly indicated to treat facial skin for severe photo-aging. It is the only type of peel that can get rid of deep wrinkles and regenerate elasticity and firmness in one single treatment. Phenol Peels are generally aimed at people who are (well) past their 40's. There is no real age limit and phenol has been used on people of advanced years as well as on other much younger patients. Old age is not in itself a contraindication to phenol and it is remarkable how skin regenerates perfectly well at any age.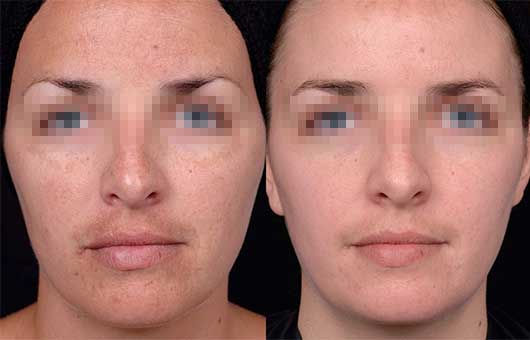 Indications for Phenol Peels:
Severe photo ageing
Acne scarring
Other scarring (for example post face-lifting)
Deep wrinkles
Expression lines (these will need to be treated with Anti Wrinkle Injections first)
Wrinkles around the mouth or eyes
Laxity and skin elastosis
Dyschromias
Freckles
Seborrhaeic keratoses
Actinic keratoses
Superficial skin cancers
Xanthelasma
Our doctors are experts in the management of Skin Cancer, Melanoma, Acne, Psoriasis, Atopic Dermatitis (Eczema), Hidradenitis Suppurativa, Lupus, Contact Dermatitis and Hair Loss. They have access to and experience with advanced treatments and technologies that offer the most up to date and best possible care.
Patient expectations:
Thin, elastic and distended skin is ideal for a Phenol Peel. Results are better than with a surgical facelift. On the other hand, a phenol peel, even under the best conditions cannot completely lift jowls. Surgery does not change the texture of the skin, and applying a phenol peel after surgery rejuvenates skin texture, removing all the wrinkles and marks that surgery has no effect on. The same applied for upper lid blepharoplasty: a surgical blepharoplasty is still the best choice for this indication, but excellent results can be achieved with a spot phenol peel in this area and dropping skin can be retracted satisfactorily without the need for surgery.
Phenol peels take 10- 15 years off someone's face. Occasionally results are suboptimal especially around the chin area in severe photo ageing and it is reasonable to repeat the peel in this area if necessary at a 6 week interval. This however is not usually required.
Assessing patients for Phenol Peels:
Contraindications:
Insulin-Dependant Diabetes
Active Herpes or skin infection
Pregnancy/lactation
Pre-existing heart condition. (Phenol peels should not be performed in a patient after a myocardial infarction or cardiac decompensation. Unstable angina also rules out a phenol peel, as the stress associated with a peel would trigger a heart attack)
Patients who are very stable from a cardiac point of view are not contraindicated but a full medical history, bloods and ECG would need to be performed pre-treatment
Pre-existing kidney or liver disease
Recent post-operative wounds
History of local radiotherapy
Ehler-Danlos syndrome, collagen disorders
Darker skin types
Heavy Smokers
Neck or other body parts
Cost:
Phenol Peels can be done as full face or local applications. A local application of phenol for example upper lip, eyes or chin would cost €650 per area. A combination of one area of phenol with TCA on the rest of the face is €1000. In the eye area Anti Wrinkle Injections need to be administered at least 1 week before the procedure and this usually costs around €200. A full face phenol peel is €3,500.
Aftercare:
Patients post phenol will be given written instruction on their aftercare. They need antibiotics, antiviral and pain killers and need to be going home to a relative or friend for the first 24 hours.
Downtime:
There will be quite significant swelling post phenol peels within 24 hours. A tape is applied to certain areas of phenol for example upper lip and chin and this needs to be kept on for the first 24 hours. You will need to see your doctor after that for the removal of the tape and application of a yellow anti-bacterial powder. You will be fit to wear make-up after 8 days if you wish. The skin on the neck and décolletage will take up to three weeks to heal properly. If you have any further questions Dr. Naomi Mackle will be happy to go through them with you.
Contact Us
THE ADARE CLINIC
Dublin
4 Clare Street, Dublin 2.
Tel: +353 (0)1 676 9810 Dublin
Email: ivan@theadareclinic.ie
_
Adare, Co. Limerick, Ireland
Unit 2, Harvey's Quay, Limerick
Tel: +353 (0)61 395410 Adare
Email: info@theadareclinic.ie